Around these parts, we most often associate [Drygol] with his incredible ability to bring damaged or even destroyed vintage computers back to life with a seemingly endless bag of repair and restoration techniques. But this time around, at the request of fellow retro aficionado [MrTrinsic], he was given a special assignment — to not only build a new Amiga 2000 from scratch, but to pack it with so many mods that just physically fitting them into the case would be a challenge in itself.
The final product, dubbed Tesseract, took two and a half years to complete and has been documented over the course of six blog posts. The first step was to get a brand new motherboard, in this case a modern recreation designed by Floppie209, and start populating it with components. With some modifications, the new board slipped neatly into a slick metal case. Unfortunately it quickly became clear some of the mods the duo wanted to install wouldn't work with the reverse-engineered motherboard. This was around Spring of 2021, which is the last time we checked in on the project.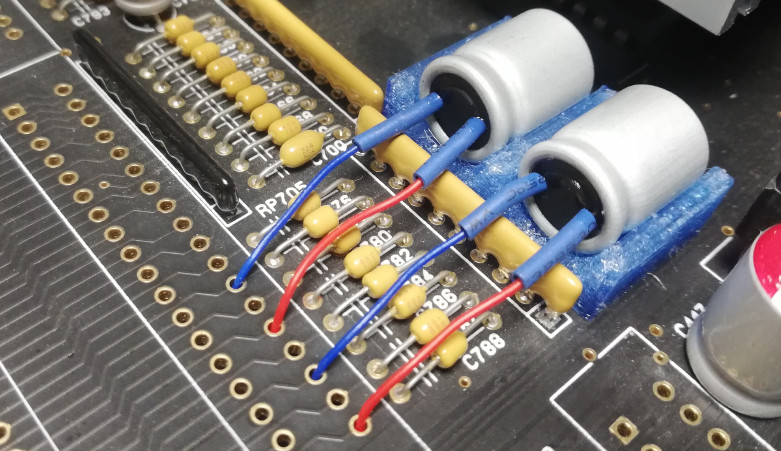 Things have progressed considerably since then. Despite the initial setback, there were still a dizzying array of upgrades and mods that would work on the board, so [Drygol] embarked on the laborious process of installing of them. When we say this machine is stacked with mods, we mean it literally.
To get everything installed, add-on boards needed to be piled on top of each other like some kind of three-dimensional jigsaw puzzle. Connecting everything together required all sorts of risers and jumpers, as well as dozens of bespoke 3D printed brackets and mounts to hold it all in position. Even then, some boards needed to be physically trimmed so they could fit around the occasional inconvenient capacitor. Frankly, it's a wonder the lid closed.
Unfortunately, after years of working on the project, the unthinkable happened — while in transit to [MrTrinsic], the Tesseract was nearly destroyed. Judging by the pictures of the aftermath, it looks like the shipping company dropped the computer out of the back of a plane before running it over. Printed brackets were broken, pins were bent, and whole modules were wrenched out of their mounting places. For many, it would have been the end of the road.
The case looked like a box of random parts.
Many pins were bent, requiring careful repair work.
But this team persevered. [Drygol] provided remote assistance, and [MrTrinsic] was able to repair the damage. At the end of the last blog post on the Tesseract, the machine was still going through the final software checks, but everything seemed like it was heading in the right direction at least. We're glad to see this amazing story get the happy ending it deserves, and thankful that its extensive documentation allowed us to come along for the ride.
Prefer to keep your retro machines a bit more authentic? Then check out the unbelievable Atari 800XL restoration [Drygol] sent our way back in 2018, which includes some of the most impressive plastic reconstruction work we've ever seen.